Philipines Market Insights 2018.09.11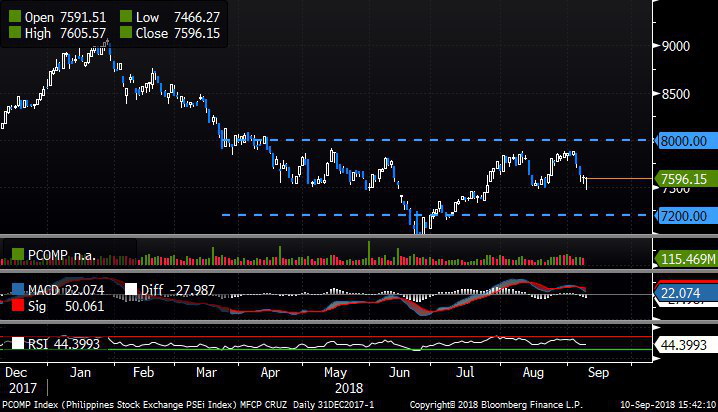 フィリピン株式ニュースハイライト
News Highlights: On local corporate news, Metro Pacific Investments Corp. (MPI) raised its interest in PT Nusantara post the firm's tender offer to 77.94% and they also confirmed plans to acquire 3-4 hospitals outside of Metro Manila. Meanwhile, Finance chief Dominguez wants San Miguel Corp. (SMC), the parent firm of San Miguel Holdings (SMHC) to guarantee the int'l. airport in Bulacan.
マーケットモニター
各国市場モニター
フィリピン株式市場動向
PHILIPPINES
Saved by mid-session buying, PSEi limits decline to 7,596: After moving to an intra-day low of 7,466, buyers managed to limit the PSEi's losses, before closing 2 notches lower at 7,596 (-0.03%). Declines in financials (-0.62%) were offset by gains in mining/oil (+0.7%) & industrials (+0.7%). FLI (+P0.02 t P1.49); URC (+P8.10 at P153); & MBT (+P0.50 at P70) rose among actively-traded shares, AC (-P3 at P914); ALI (-P0.20 at P42); & RRHi (-P1.20 at P79.60) fell. Turnover rose to P7.4bn, but foreigners remained net sellers at P853mn. Gainers-losers scored 62-124.
Buyers shop: Sessions might move sideways, possibly with a slight upward bias, as some buyers seize on the recent dip to scout for bargains ahead of 4Q season play. Focus would likely be industry-specific, as others partake on projects/prospects that could augment listed firms' earnings profile. Continue to trade within range. Immediate support is 7,550, resistance 7,650-7,670.
ASIA
Marts mostly dropped: Asian stocks were mostly lower on Monday, on continued fears of an all-out trade war between US and China and Pres. Trump's comments urging Apple Inc. to move its manufacturing to the U.S.
WALL STREET
US shares mixed: Wall Street was mixed, on trade tariff concerns, aside from plans to unveil fresh round of tax cuts this week before 06 Nov. congressional elections. DJIA -59 points, 25,857 (-0.23%), Nasdaq Comp. +21pts, 7,924 (+0.27%).
COMMODITIES
Crude weakened: U.S. benchmark crude prices slightly dropped Monday on growing concerns that storms shaking in the Atlantic will hurt energy demand on the U.S. East Coast. West Texas Intermediate (WTI) shed $0.21 to $67.54/barrel.
フィリピン国内各企業動向
MPI raises stake in Indonesian toll road firm:
Metro Pacific Investments Corp. (MPI) raised its interest in PT Nusantara post the firm's tender offer. Transaction value was at P2.86bn for the additional 22.68% block, bringing PT MPTI's stake to 77.94%. PT Nusantara's infra portfolio in Indonesia covers toll roads, ports, energy & water projects.
MPI confirmed healthcare expansion plan:
Metro Pacific Investments Corp. (MPI) confirmed plans to acquire 3-4 hospitals outside of Metro Manila. The move will expand the firm's healthcare business.
DoF underscores financing capability for Bulacan airport project:
Finance chief Dominguez wants San Miguel Corp. (SMC), the parent firm of San Miguel Holdings (SMHC) to guarantee the int'l. airport in Bulacan. Given the P735.6bn undertaking, Dominguez said SMHC's equity is only at P60bn (based on 2016 data). using 70-30 debt-equity mix, roughly P200bn is needed to be injected as equity.
RCB prepares initial tranche of P20bn float:
Rizal Commercial Banking Corp. (RCB) is offering the initial tranche of Long-term Negotiable Cert. of Time Deposit (LTNCTDs) due 2024 out of the P20bn approved float. Offer run is 10-21 Sept., issue & listing on 28 Sept. The LTNCTDs will carry a tenor of 5 years & 6 months.
I ties up with Ripple:
I-Remit, Inc. (I) teamed-up with US-based Ripple for block chain cross-border settlement & payments solution called xCurrent. The move is seen to reduce transaction cost, improve speed & scale, as well as minimise fraud vulnerability.
PGOLD incorporates PurePadala:
Puregold Price Club, Inc. (PGOLD)'s board approved the incorporation of PurePadala, Inc. which will be in partnership with banks & other fintech entities. The cash remittance unit will benefit customers & shoppers of PGOLD.
MWIDE team-up with PSI for PaREx:
Megawide Construction Corp. (MWIDE) entered a MoA with Phil. Skylanders Int'l (PSI) for MWIDE's participation in engineering, procurement, construction (EPC) as well as operation & maintenance of Pasig River Expressway (PaREx) project.
MRP files for voluntary delisting:
Melco Resorts and Entertainment (Philippines) Corp. (MRP) notified the Exchange of the intent of major shareholder, MCO (Phils) Investments Ltd., to conduct a tender offer for up to 1.543bn common shares, or 27.23% of outstanding capital at P7.25/share. Filing of the tender offer report to SEC & PSE is 'on or around 17 Sept.' No other data was given.
TBGI grants P40mn worth of shares to president:
Transpacific Broadband Group Int`l. Inc. (TBGI) approved the issuance of 400mn stock option shares at P0.10 apiece, pursuant to the stock option plan granted to Mr. Arsenio T. Ng. The shares were paid for Ng's leadership & management from 2000-2007.
RCI prepares preferred shares & other matters:
Roxas and Company, Inc. (RCI)'s board approved the increase in their authorised capital from P3.375bn to P4.375bn, that would include the creation of P1bn preferred shares. The preferred shares will be non-voting, non-convertible & redeemable. RCI also approved the conversion of its short-term loan with CHIB to a 7-year loan & act as co-maker of Roxaco Land. RCI also approved the issuance of corporate guaranty for P250mn loan conversion & pledged its treasury shares as security.
TECH gets shareholders' clearance for recapitalization:
Cirtek Holdings Philippines Corp. (TECH) shareholders approved the increase in the firm's authorised capital from P860mn to P1.020bn, by raising the common shares from P520mn to P640mn, preferred A from P70mn to P110mn. TECH will lower the par value of its shares from P1 to P0.50, preferred A from P0.10 to P0.05. It will then create Preferred C shares from the reclassification.
フィリピン経済指標
GDP targets to be reviewed:
NEDA chief PErnia said economic managers will meet on 14 Sept. to discuss realistic GDP growth goal for 2018. Economic managers are also slated to attend the Phil. Eco. Briefing in London on 24-29 Sept. The original GDP target was 7%-8%, vs. 1H18's 6.3%.
POGOs are taxable, BIR's new memo says:
BIR issued circular 78-2018, covering Phil. offshore gaming operators (POGO). BIR said online activity is sufficient to constitute doing business in the Phils. As such, a foreign firm engaged in POGO is considered a resident foreign firm engaged in the Phils., not a non-resident foreign corp.
DAU buys into Conti's:
Udenna Corp. signed a share purchase agreement for 70% of Conti's Holdings. The move is seen to deepen Dennis A. Uy's (DAU) stake in the hospitality & restaurant management business. Closing of the transaction is seen within Oct. 2018.
Airport bids of CLC & Mega7 get DoTr endorsement:
DoTr endorsed the unsolicited proposals of CLC & Mega7 Construction for provincial airport projects in Davao & Kalibo, respectively. Meanwhile, the proposal of Aboitiz Group for Panglao, remains under evaluation.
Century Properties-Globe Invest form JV:
Century Properties, Inc. (CPI) of the Antonio family, entered a JV with Globe Invest for advanced energy optimisation management, advanced agriculture & urban farming, prefab housing, water desalination & other real estate dev't. projects. Globe Invest specialises in co-working & co-living spaces, among other businesses.
PNOC's LNG plan scaled down:
PNOC's solicited process for the $600mn LNG in Batangas will just cover a hub. As such, the previous plan to build a land-based power plant as off-taker for the natural gas has been put on hold, & will instead use a floating storage regasification unit (FSRU) that will also serve as terminal for imported LNG. The FSRU will have an initial capacity of 3mn tons per annum (MTPA) that can power a 3,000MW plant. The FSRU's capacity may be scaled up to 5MTPA.
記事提供: